Jewelry Appraisals by a Recognized Expert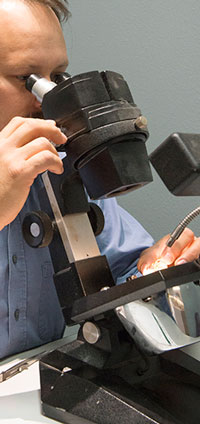 Aaron Peñaloza, a third generation jeweler, brings more than 40 years of experience to each and every jewelry appraisal and consultation. A graduate of the Gemological Institute of America, Peñaloza is also a senior charter member of the National Association of Jewelry Appraisers and has been awarded the Registered Jeweler (RJ) designation by the American Gem Society.
A jewelry appraisal is an assignment of value. It requires a close examination of the jewelry, including measurement of weight and size along with an accurate assessment of the grade and quality of
gemstones
and
precious metals
used. Sometimes historical research is required, and a thorough knowledge of the jewelry market is always necessary.
C. Aaron Peñaloza Jewelers guarantees the highest standards of professionalism. Our written appraisals include photographic documentation, and all items are protected and insured while in our care.
Appraisal Fees
C. Aaron Peñaloza Jewelers charges a minimum of $60 or $120/hour for appraisals left with us. For appraisals in our store while you wait, we charge $175/hour. (An appointment is required.) For an appraisal at your location, we charge $250/hour + $75/hour for travel time. Call to arrange a time and place. Gemstone identification is charged at $25/stone. Estate appraisal fees are negotiable. Call to discuss your needs.
Types of Appraisals
Insurance Appraisal
Generally the current cost to replace with a similar piece of jewelry of equivalent quality or the current cost to replace with a duplicate of exact quality and design.
Fair Market Value Appraisal
As defined by the Internal Revenue Service, "fair market value" is the price a willing seller and a willing buyer agree upon.
Collateral Evaluation
The value an item would command if sold quickly to satisfy a debt.
Estate Evaluations
May be any of the above-mentioned types, but to comply with IRS regulations, the estate must consistently use the same type of appraisal for all items.
Damage Reports
A damage report is usually done for an insurance claim when a stone has been chipped or lost. This type of appraisal assesses the cost to restore a piece to its original condition or its loss of value in its current condition.
Forensic Appraisals
A reconstruction of the description and value of a piece lost, stolen or too badly damaged to assess based on present condition.
Wish Lists & Gift Cards
See something you'd like?

Let us pass along the hint. We maintain wish lists for customers that visit the jewelry store, and can let your special someone know what you have been eyeing.
Can't decide what would delight her/him?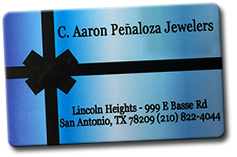 A gift card from C. Aaron Peñaloza is guaranteed to please. Gift cards are available in any denomination, and carry no hidden fees. They can be used to purchase jewelry in the store or for services, and they never lose value!