There are so many options for conducting research on the Internet that you can easily get overwhelmed. And how do you judge?
Is the information accurate and trustworthy? Has this site added self-serving information or omitted important facts? Is this an effort to sell me something or provide reliable knowledge?
Gemstones and jewelry are fascinating. We encourage consumers to become better informed by using the resources in the box at the right. Or
come by
and ask us questions. Let us show you how to evaluate jewelry and learn more about our favorite subject.
Wish Lists & Gift Cards
See something you'd like?

Let us pass along the hint. We maintain wish lists for customers that visit the jewelry store, and can let your special someone know what you have been eyeing.
Can't decide what would delight her/him?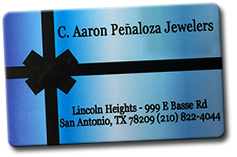 A gift card from C. Aaron Peñaloza is guaranteed to please. Gift cards are available in any denomination, and carry no hidden fees. They can be used to purchase jewelry in the store or for services, and they never lose value!