Pearl Jewelry for Sophisticated Elegance
A classic pearl necklace is never out of style. But, their diversity in shape, size and color allows pearls to be used in jewelry that will harmonize with a variety of personal styles. At C. Aaron Peñaloza Jewelers, you will find pearl necklaces and bracelets, pearl rings and earrings designed in contemporary and classic styles. Saltwater and freshwater pearl selections. And natural and dyed pearls that display colors ranging from white and the palest pink to chocolate, gray and black. Some of our most popular jewelry designs combine pearls with
diamonds
and other
gemstones
.
For assistance in choosing gorgeous pearl jewelry that will impress, come into our
jewelry store
. You will find our staff knowledgeable and accommodating.
More about Pearls
There are pearls to suit most every customer's taste and budget. Here are a few of the considerations:

Pearl Types - Fine, natural pearls are rare and very costly. Most pearls sold today are cultured. They may be cultivated in saltwater (such as Akoya pearls, South Sea pearls, and Tahitian pearls) or freshwater (Biwa pearls, Chinese pearls, and American pearls)

Shape - There are four basic pearl shapes used for necklaces in various lengths—round, off-round semi-baroque, and baroque. Other shapes such as teardrops, buttons, and ovals are used more often for earrings, pendants and brooches.

Color - Pearls come in a wide range of shades including white, cream, pink, silver, golden, mauve, peach, lavender, champagne, gray and black. It is currently fashionable to mix colors in pearl strands. The choice of color is very personal and usually determined according to skin tones.

Luster - Surface brilliance is determined by the layers of "nacre"—the thicker the nacre, the deeper the lustre. Desirable luster can range from a silky, shiny sheen on white Akoya pearls to a mirror bright sheen on black Tahitian pearls or a soft, satin surface on golden South Sea pearls.

Surface - Small surface imperfections are part of the natural beauty of pearls. These might include dimples, rings, orange peel and nodules. Of course, the fewer and less noticeable the imperfections, the more valuable the pearl.

Come by, call or

contact us

for more information about pearls and other services.
Wish Lists & Gift Cards
See something you'd like?

Let us pass along the hint. We maintain wish lists for customers that visit the jewelry store, and can let your special someone know what you have been eyeing.
Can't decide what would delight her/him?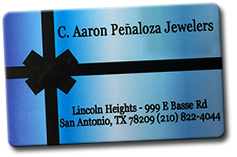 A gift card from C. Aaron Peñaloza is guaranteed to please. Gift cards are available in any denomination, and carry no hidden fees. They can be used to purchase jewelry in the store or for services, and they never lose value!