Estate Jewelry Representing the Best of the Past
Fine quality estate jewelry is highlighted among the collection at C. Aaron Peñaloza Jewelers. This jewelry displays a quality craftsmanship and enduring classic and vintage designs. From true antiques to contemporary jewelry, each is a work of art revealing a timeless romance and outstanding value. Come by the store or make an appointment for a private consultation to peruse our collection of exquisite estate jewelry. You will discover a rare treasure you will love to wear. C. Aaron Peñaloza Jewelers also accepts estate and consignment pieces for sale through the retail store and at auction.
Watch for our Estate Jewelry Event Each November
For two weeks each November, we dedicate our entire store to estate jewelry. Items for sale include consignment pieces, our own collection, and estate pieces from out-of-state jewelers. Please call for more information and to receive reminders of this annual special event.
Jewelry Eras

Victorian Period
(1837 – 1901)
Victoria designs were highly influenced by Greek and Gothic lore. They featured somber black onyx, garnet, amethyst, amber and pearls.

Art Nouveau Period
(1885 – 1915)
The look was fluid and open, often utilizing pearl drops. Intense color and unusual color combinations were frequently achieved in enamel.

Art Deco Period
(1920 – 1940)
Originating in Paris, this style emphasized abstract design and defined geometric patterns. The stones were frequently in complimentary colors.
Wish Lists & Gift Cards
See something you'd like?

Let us pass along the hint. We maintain wish lists for customers that visit the jewelry store, and can let your special someone know what you have been eyeing.
Can't decide what would delight her/him?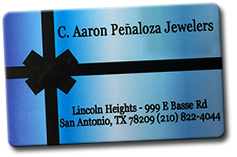 A gift card from C. Aaron Peñaloza is guaranteed to please. Gift cards are available in any denomination, and carry no hidden fees. They can be used to purchase jewelry in the store or for services, and they never lose value!