Experienced Gemologist and Staff for Friendly Jewelry Advice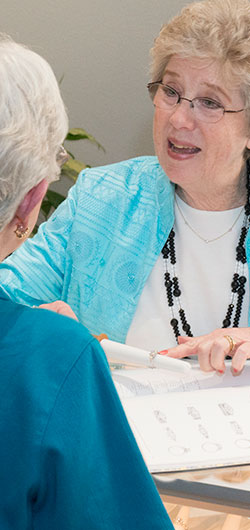 The expert staff at C. Aaron Peñaloza Jewelers has provided San Antonians with valuable advice and a comfortable shopping experience for more than 24 years. Drawing on the expertise of Aaron Peñaloza, a registered jeweler with the American Gem Society, we help customers make jewelry selections that will be enjoyed and treasured now and by generations to come. To make buying that special piece of jewelry easier, we offer financing plans.
C. Aaron Peñaloza Jewelers provides
jewelry and watch repair
and
jewelry appraisal services
. Our experienced jewelers have helped many customers create special one-of-a-kind
custom jewelry designs
, including design updates of vintage pieces.
C. Aaron Peñaloza Jewelers buys consignment jewelry year-round. We also buy gold, silver and platinum at competitive market prices.
The Peñaloza name has been synonymous with
fine jewelry
in San Antonio for three generations, and we have a passion for sharing our knowledge with customers. Stop by the store to meet our well-trained staff. Let us help you with all of your jewelry needs.
Our Affiliations
C. Aaron Peñaloza Jewelers is a member of the prestigious
American Gem Society (AGS)
, and adheres to that organization's high standards for knowledge, professionalism and integrity. Only 1 in 20 US jewelers meet these exacting requirements necessary for membership, and they represent the epitome of ethical business practices in the jewelry industry.
C. Aaron Peñaloza also is a member of the following industry associations:
Wish Lists & Gift Cards
See something you'd like?

Let us pass along the hint. We maintain wish lists for customers that visit the jewelry store, and can let your special someone know what you have been eyeing.
Can't decide what would delight her/him?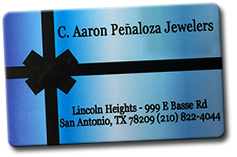 A gift card from C. Aaron Peñaloza is guaranteed to please. Gift cards are available in any denomination, and carry no hidden fees. They can be used to purchase jewelry in the store or for services, and they never lose value!