Men's Jewelry for Refined Sophistication
The men's jewelry collection at C. Aaron Peñaloza Jewelers displays the quality and sophistication men demand. Crafted with
precious metals
,
gemstones
and
diamonds
, our vintage watches, tuxedo sets, bracelets, key rings, and money clips exhibit the finest designs for the discriminating man. Our collection of contemporary, estate and vintage cufflinks is unsurpassed. Visit our store and let us help you choose a piece that you, or the man in your life, will wear with confidence.
Wish Lists & Gift Cards
See something you'd like?

Let us pass along the hint. We maintain wish lists for customers that visit the jewelry store, and can let your special someone know what you have been eyeing.
Can't decide what would delight her/him?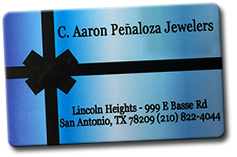 A gift card from C. Aaron Peñaloza is guaranteed to please. Gift cards are available in any denomination, and carry no hidden fees. They can be used to purchase jewelry in the store or for services, and they never lose value!