Fashionable Gemstone Jewelry Is a Favorite Accessory
Colored gemstone rings, necklaces, earrings, and bracelets are works of art. Displaying an almost infinite variety of colors, styles and price points, gemstone jewelry is beautiful, fun, and often attention-grabbing.
The staff at C. Aaron Peñaloza Jewelers can help you learn to distinguish between color and hue and even introduce you to gemstones you are unfamiliar with. Our wide selection of gemstone jewelry set in
precious metals
will perfectly complement your personal sense of style.
More about Gemstones
The magnificence of colored gemstones is a source of endless facination to the eye and the heart. Throughout time we have associated color with living properties—mythical, magical, theraputic, and symbolic. Today we select gemstones and gemstone jewelry primarily for its intrinsic beauty. The choices are endless and there are stones to match every desire and every budget.

Red:
Ruby, garnet, red spinel, carnelian, red coral, rhodolite

Blue:
Sapphire, blue topaz, tanzanite, iolite, aquamarine, indicolite, blue spinel

Green:
Emerald, tsavorite, chrome tourmaline, peridot

Pink:
Pink sapphire, morganite, rose quartz, kunzite

Yellow:
Citrine, yellow sapphire, beryl, topaz

Purple/Violet:
Amethyst, spinel, almandine

Orange:
Fire opal, imperial topaz, malaya garnet
Birthstones by Month
Anniversary Gems by Year
Visit the
American Gem Society website
for more details on these and other gemstones.
Wish Lists & Gift Cards
See something you'd like?

Let us pass along the hint. We maintain wish lists for customers that visit the jewelry store, and can let your special someone know what you have been eyeing.
Can't decide what would delight her/him?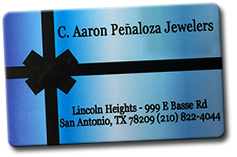 A gift card from C. Aaron Peñaloza is guaranteed to please. Gift cards are available in any denomination, and carry no hidden fees. They can be used to purchase jewelry in the store or for services, and they never lose value!