Jewelry Advice and Tips from the Peñaloza Family
Engagement Rings, Part II- Considering buying your diamond on line? (2)
Now you have the perfect diamond, let's create the perfect wedding jewelry. We believe you would be wise to work with a trusted jeweler in your area, rather than using a
"build your own ring"
feature from an on- line site. At C. Aaron Peñaloza Jewelers we have experienced staff to help you design the perfect ring to fit your budget and life style. We will help you make the critical decisions to turn your diamond into a treasure.
The diamond you have selected will be the center-piece of your engagement ring. There are several more steps to ensure that it becomes just what you want.
Remember this particular ring is unlike any other. It is a
symbol of your love and commitment to one another
. It will be worn every day for many years. Your clothes and shoes will change over the years; your hair will change and your car will change. But most people wear their original wedding jewelry forever. You will wear it with jeans and party clothes – to work, to do errands on Saturday and that special night out with friends.
The point is not to scare you but to indicate that this piece of jewelry should be a
reflection of your style and your life
. So follow a few simple steps to get it just right!
· Look for examples of rings you like. Look on the web and look at magazine ads. Check out your relatives' rings and see what your friends are wearing. Take pen to paper and sketch a design that pleases you. Do you like a vintage look or more traditional or maybe very high-tech, contemporary? Rings with halos are very popular but a classic 3-stone ring will always be in style.
· If you aren't sure, consider a solitaire mounting – sometimes called a Tiffany-style mounting. It's simple, elegant and usually less expensive.
· Consider various metals for your ring. Generally, wedding jewelry is crafted in white gold, yellow gold or platinum. Ask your jeweler to explain the costs and benefits of each.
Think about your day to day life. Are you very active at work – putting on and taking off gloves, for example? If so, you might prefer a ring with a bezel-set diamond or a low prong setting. Do you plan to wear your diamond engagement ring and wedding band every day? Would you prefer the flexibility of a wedding band or guard rings that can be worn in combination or separately?
·
Consider your budge
t. A good jeweler and designer can work within your budget and still keep your priorities.
·
Give yourself time to get it right
. Custom designed rings can take up to six weeks for delivery after the design is finalized.
·
Ask about guarantees
that are offered on the work and future upgrades. Always ask for an appraisal suitable for insurance.
Buying an engagement ring is one of the most exciting purchases you'll ever make. It is the start of a wonderful new life and represents all of the promise of the future. You'll be so happy you've taken the time to create the perfect rings.
Wish Lists & Gift Cards
See something you'd like?

Let us pass along the hint. We maintain wish lists for customers that visit the jewelry store, and can let your special someone know what you have been eyeing.
Can't decide what would delight her/him?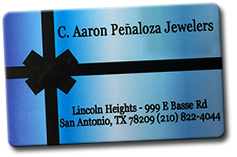 A gift card from C. Aaron Peñaloza is guaranteed to please. Gift cards are available in any denomination, and carry no hidden fees. They can be used to purchase jewelry in the store or for services, and they never lose value!