Jewelry Advice and Tips from the Peñaloza Family
Engagement Rings, Part I- Considering buying your diamond on line?
Buying a diamond can be a daunting thing. Diamonds are expensive and the language used by jewelers might be intimidating. How do you make sure that this very important purchase goes well? More and more diamond customers are opting to buy from an on-line source. There is a convenience factor as well as the comfort of setting your own pace. The downside is that you won't be comparing diamonds - you will only see one diamond at a time and only after you have paid for it.
We always recommend that customers considering buying an expensive diamond from an on-line seller should buy the diamond as a loose stone – do not opt for a
"build your own ring"
mounting. It is important to inspect the unmounted diamond under magnification and from different angles to see it properly.
In many respects buying a diamond on line is similar to buying from a local jewelry store. Of course price and selection are important, but at the heart of the decision is
KNOWLEDGE AND TRUST
.
Knowledge
: Buying a diamond online means that the consumer must be his or her own adviser. We suggest that very reliable information about diamonds can be found on the website of the American Gem Society (
"Diamond Buying"
, americangemsociety.org) or The Gemological Institute of America (
"Diamond Buying Guide"
, 4Cs.gia.edu). These professional sites do not sell jewelry – their purpose is education.
1. After you have learned the basics of diamonds, the next step is be clear about the style of diamond ring you want and what your budget is.
Remember that the diamond is not the end – the goal is to have a beautiful ring.
The shape of the center diamond – for example round or cushion or emerald-cut – will be the starting point.
2. Price will depend on the size, color and quality of the stone. Not all one-carat stones are created alike. Most buyers decide what their most important priority is. There is no right answer or wrong choice – it's a matter of personal taste and desire.
For you, is it the size of the stone? Size is measured in carats – 1 carat has 100 points, so it's described as 1.00 ct.
Or maybe a smaller stone that is higher up the color scale makes you happiest. Color is evaluated on a scale, generally ranging from "D", colorless to "Z" light yellow.
What about the slight flaws (inclusions) which are present in almost every natural stone? Clarity is judged on a letter scale –
"F"
Flawless to
"SI2"
slight inclusions to
"I3"
– heavy inclusions. Some diamonds have a fluorescence, either a blueish fluorescence or maybe a yellowish tint that also affects the desirability and thus the price.
3. It is harder to judge the brilliance of a diamond without seeing it – and yet this might be the most important consideration. Jewelers refer to this as the
"cut"
of the diamond - how well have the facets been cut? How much light travels through the facets- does it sparkle or does it seem a little cloudy?? How pleasing are the proportions?
Trust
: Before you agree to buy a diamond from an on-line seller be very sure you trust the seller and understand the details of the transaction.
1. Only agree to buy a diamond that has a Diamond Report (may be called a certificate) from a highly reputable gem lab. We recommend reports from GIA or AGS as the most reliable (some labs are not). These numbered reports will have the specifics of the diamond – carat weight, color, clarity, cut. A report from a reputable lab is your assurance that the stone you are buying is exactly as it is advertised. It will be used for for insuring your diamond. Diamonds with reports will be a little more expensive but the added cost is warranted for the security it provides.
2. Be sure to read all of the customer reviews for the seller. Previous customers are usually very helpful in describing their experiences.
3. Use the "live chat" feature and ask a lot of questions. Be discerning, not only about the answers but whether the person you are speaking with is a knowledgeable diamond expert or just a sales person.
4. Ask for a detailed sales receipt, describing all aspects of the diamond and the terms of the sale.
5. Consider taking the diamond to your jeweler to make sure it matches the descriptions and that it will be suitable for the ring design you want. Ask to see comparable diamonds so you have the opportunity to compare more than one stone.
6. Be very clear about the dollar amount being put on your credit card and the return policy. There may be a limited time for returning the diamond for a full refund. There may also be other requirements for returns.
7. Ask about sales tax. Sales tax is not collected by the on-line seller if you live in a different state. Most states laws require a purchaser to self-report and pay appropriate sales tax directly.
8. Be clear about return shipping requirements, including specific directions for packaging and return labels. Who pays the shipping costs?
A beautiful diamond in a beautiful ring is worth the time you put in finding it. Happy hunting!
Wish Lists & Gift Cards
See something you'd like?

Let us pass along the hint. We maintain wish lists for customers that visit the jewelry store, and can let your special someone know what you have been eyeing.
Can't decide what would delight her/him?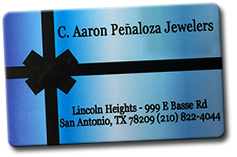 A gift card from C. Aaron Peñaloza is guaranteed to please. Gift cards are available in any denomination, and carry no hidden fees. They can be used to purchase jewelry in the store or for services, and they never lose value!