Jewelry Advice and Tips from the Peñaloza Family
Pantone Colors for Fall 2015
If you haven't already seen an item on social media or in the fashion pages about THE PANTONE FALL COLORS you will see it soon.
For over 50 years Pantone Inc., an American company, located in New Jersey, has declared the IT color for the year . For 2015 it's
"Marsala" (PMS 18-1438).
And their color experts follow up with color picks for spring and fall.
Pantone might be best known for the Pantone Matching System (PMS)-color charts that are widely used as color standards in a variety of industries such as fashion and fabric, home interios, paint and ink colors. After hosting secret meetings of representatives from different countries and different businesses they look at trends, innovations, consumer moods and interests. From these discussions thay choose their colors.
Should you care?

Maybe not, but if you pay attention you will discover that you start seeing the IT color everywhere. Remember a few years ago when you coudn't go into a department store without being surrounded by an explosion of fruit punch? Did you ask, "What's the deal? When did the world turn orange?" Well, you can thank Pantone for that. In 2011 Pantone anointed Tangerine Tango (PMS 17-1463) as their favorite tone. Then there was a rush to Emerald (PMS 17-5641). Last year we saw Radiant Orchid (PMS 18-3224) popping up in the most unlikely places.
The chosen
colors for Fall 2015
are a comnination of earth-tone neutrals such as
Dried Herb
(PMS 17-0627),
Oak Bluff
(PMS 16-1144) and
Stormy Weather
(PMS 18-4214) mixed with punches of more complex tomes such as
Biscay Bay
(PMS 18-4726),
Reflecting Pond
(PMS 19-4326) and
Cashmere Rose
(PMS 16-2215)
As jewelers we love color!
We get very excited about elegant blue sapphires and rich garnets. Cool aquamarines make us swoon. Emeralds send us over the moon.
But we also recommend proceeding with caution when following trends
. If your budget is unlimited, buy them all. Otherwise, do not be oberly influenced by the IT color of the year.
Consider colors you like and wear well, colors you are drawn to. Fine jewelry, well-designed and well-made, will always be in style.
It will always enhance your own fashion look. Remember there are lovely gemstones in nearly shade and hue. And there is a gemstone for every budget.
For information about color gemstones we suggest doing research on the following sites:
www.AmericanGemSociety.org
,
www.agta.org
or
www.gia.edu
For a fascinating look at the history of Pantone colors and the choices for 2015 take a look at
www.pantone.com
Wish Lists & Gift Cards
See something you'd like?

Let us pass along the hint. We maintain wish lists for customers that visit the jewelry store, and can let your special someone know what you have been eyeing.
Can't decide what would delight her/him?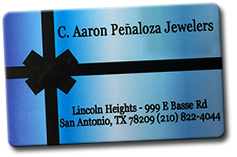 A gift card from C. Aaron Peñaloza is guaranteed to please. Gift cards are available in any denomination, and carry no hidden fees. They can be used to purchase jewelry in the store or for services, and they never lose value!