Jewelry Advice and Tips from the Peñaloza Family
Do I need an appraisal?
Most homeowner's insurance covers stolen or fire damaged jewelry up to $500 - $1000 in value. A loss can easily exceed this amount. For adequate coverage we recommend a scheduled policy with assigned values for each piece of jewelry. These additions to your insurance should cover all risks – lost jewelry, damaged, mysterious disappearance as well as general theft or fire. You will need to make some decisions about the kind of coverage you want – a new similar item, an exact duplicate of the item or enough money to cover the loss.
The appraisal should include very detailed information about each piece – descriptions of metal, number and quality of stones, design and any other pertinent information as well as a color photo of each piece. It should be signed and dated.
Ask questions.
We recommend that your appraisal be done by an experienced jewelry appraiser. Ask about credentials and membership in appraisal organizations. Ask about pricing before you leave your pieces. We recommend that pricing be based on the time required or per piece – never by the dollar value of the items. Appraisals can be done while you wait or they can be left with the jeweler.
Our experts at C. Aaron Jewelers will be happy to discuss jewelry appraisals with you to help you decide how best to cover your cherished jewelry.
Wish Lists & Gift Cards
See something you'd like?

Let us pass along the hint. We maintain wish lists for customers that visit the jewelry store, and can let your special someone know what you have been eyeing.
Can't decide what would delight her/him?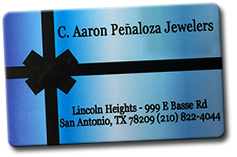 A gift card from C. Aaron Peñaloza is guaranteed to please. Gift cards are available in any denomination, and carry no hidden fees. They can be used to purchase jewelry in the store or for services, and they never lose value!