Jewelry Advice and Tips from the Peñaloza Family
Buying Color
If you like red or pink you might consider rubelite or spinel, garnet, or pink sapphire or morganite. If you like green take a look at tsavorite and green tourmaline. Cool blue shades include aquamarine, blue topaz and blue zircon. Iolite and tanzanite are beautiful deep blue-purple shades. Spessartite is a vibrant orange while Imperial Topaz is a softer medium orange shade. And don't forget opal, peridot, jade and lapis lazuli.
When shopping for color gemstones whether at home or while traveling, there are some guidelines you can trust.
Do some research before you buy
– either on-line or ask your favorite jeweler. All of the gemstones have unique properties that distinguish them one from another.
Ask specific questions about the stones you see.
Are the finest stones light in color or darker? Does the faceting of the stone add to its brilliance and lively appearance? What is a general cost range for these stones?
Inquire if the stone has been treated
, as this is routinely done for many gemstones. The treatments improve the quality of stones and frequently make genuine, but average gemstones more beautiful and more affordable. For example emeralds are usually oiled to improve the clarity and color. It is not uncommon for ruby and sapphire and zircon to be heat-treated to stabilize and enhance the color. Other gemstones might be coated, treated with light or chemicals or irradiated. All reputable jewelers should be able to discuss various treatments with you.
Ask the jeweler or dealer about the origin of the gemstone you are buying
. Selecting a fine ruby in Myanmar(Burma) does not mean it's a Burmese Ruby. Or a beautiful turquoise piece may be purchased in Arizona but really be from China.
Expensive gemstones and finished pieces of jewelry should have some
documents or an appraisal
. Be sure to ask for detailed descriptions to be included on the sales slip and /or the business letterhead.
Always be clear about guarantees and return policies whenever buying gemstones.
We advise you to pick your favorite colors and enjoy one of nature's magnificent gifts to us.
Wish Lists & Gift Cards
See something you'd like?

Let us pass along the hint. We maintain wish lists for customers that visit the jewelry store, and can let your special someone know what you have been eyeing.
Can't decide what would delight her/him?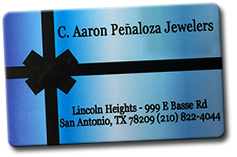 A gift card from C. Aaron Peñaloza is guaranteed to please. Gift cards are available in any denomination, and carry no hidden fees. They can be used to purchase jewelry in the store or for services, and they never lose value!