Jewelry Advice and Tips from the Peñaloza Family
Be a smart shopper
We all do it! Shopping while on vacation. Sometimes it's a memento from a great trip, sometimes it's an item that takes our breath away, sometimes it's an impulse buy. We always want to come home and feel happy about our souvenirs.
Of course, we've also had the opposite experience – getting home and finding out we've been misled or even ripped off.
Here are some tips for buying jewelry while on vacation.
Do a little research before you go
– what kinds of gemstones or unique jewelry is the region known for? Who are the reputable, established dealers? Often the guidebooks can give you suggestions or read on-line. Beware of suggestions from your taxi driver or waiter – they may send you to a "cousin" or a business they have an interest in.
Insist on specific information concerning your purchase
– color, clarity and exact weight for diamonds, treatments for color gemstones, make, model, serial number and owner registration materials for high-end watches, authenticity for antiques. This information should be in writing on the business letterhead or sales slip.
Remember that standards we take for granted in the U.S may not apply overseas.
Karat stamps (example: 14K or Sterling Silver) may not be adhered to in the same way. Ask questions!
Be clear on the guarantees and return policy.
Under what circumstances can you return the item? Full refund? How should it be shipped back? We suggest using a credit card with an imbedded microchip to pay for purchases – the card company will probably be able to help you in case there is dispute.
If you are concerned call your hometown jeweler for advice before you leave home.
Happy travels!
Wish Lists & Gift Cards
See something you'd like?

Let us pass along the hint. We maintain wish lists for customers that visit the jewelry store, and can let your special someone know what you have been eyeing.
Can't decide what would delight her/him?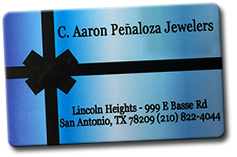 A gift card from C. Aaron Peñaloza is guaranteed to please. Gift cards are available in any denomination, and carry no hidden fees. They can be used to purchase jewelry in the store or for services, and they never lose value!